Is the Toyota Tacoma or Tundra a more powerful vehicle?
One of the key factors in choosing a truck is figuring out what you're going to need it for. If you're using it for commuting and small weekend tasks, you won't need the same amount of towing and hauling power you would need if you were using it every day for farm work, construction work, or towing boats and campers on long weekends.
As a full-size pick-up, the 2019 Toyota Tundra features a bit more pulling power. With the standard 4.6-liter V8, you get 310 horsepower and 327 lb-ft of torque on tap, some pretty potent numbers. Only available with a Standard Bed, it can tow up to 6,800 pounds - perfect for towing smaller camper trailers and plenty of gear to the sites past Monroe and Goshen. If that isn't enough, you can upgrade to the 5.7-liter V8, which raises power output to 381 horsepower and 401 lb-ft of torque. Towing potential gets a massive boost, as with this engine the Tundra can tow up to 10,200 pounds, depending on if you want two- or four-wheel drive, and how big of a box you want on the back.
While the 2019 Toyota Tacoma can't match those towing and hauling numbers, it does have pint-sized power. The base engine is an efficient 2.7-liter inline four-cylinder, offering 159 horsepower and 180 lb-ft of torque. Even with low power numbers, it still puts in work - with 3,500 pounds of maximum towing capacity, it's perfect for towing smaller boats and off-road vehicles. With 278 horsepower and 265 lb-ft of torque, the available 3.5-liter V6 gives the Tacoma a great power-to-weight ratio, and makes it a solid bet for towing and hauling. With a maximum towing capacity of 6,800 pounds, it's right up there with the base level Tundra.
Both the Tundra and Tacoma are available with two- or four-wheel drive, but considering how the weather can get in the region and some of the road conditions - or lack of roads, if you're really adventurous - four-wheel drive is generally the way to go. If you love playing in the mud, the Tacoma offers the TRD Off-Road and TRD PRO trims, featuring trail-ready capabilities and agility. While the Tundra also offers the TRD PRO trim for some trail and field capabilities, it just doesn't have the go-anywhere mindset of the Tacoma.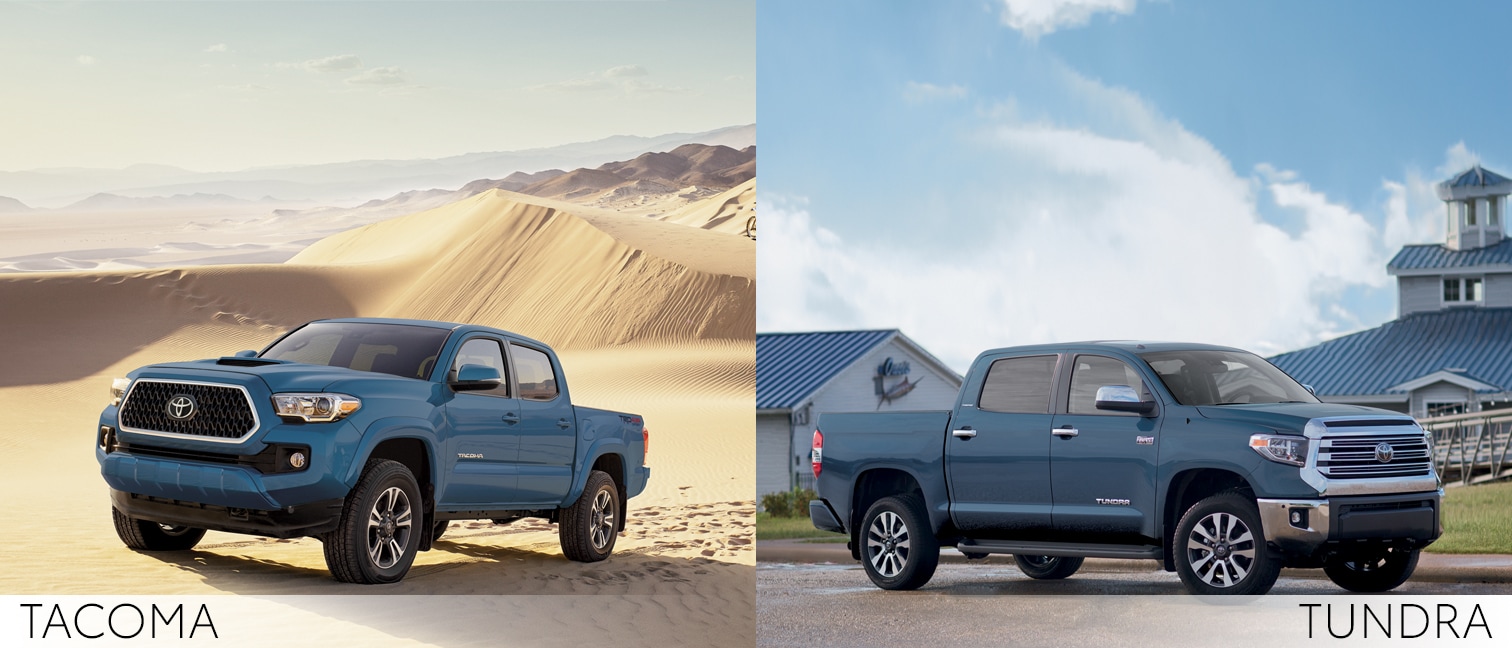 Is the Tacoma or Tundra a more economically friendly truck?
The sticker price is just the start of paying for a vehicle. Ongoing costs, from registration to maintenance to fuel, add up over the lifetime.
Those smaller engines in the 2019 Toyota Tacoma also come with the benefit of being friendlier on the monthly fuel budget. Even the most fuel-hungry version, the V6 with manual transmission and four-wheel drive, offers commuter-friendly mileage of 17 MPG city and 21 MPG highway. Go with the four-cylinder engine and two-wheel drive, and you're getting 20 MPG city and 23 MPG highway.
With more power in the big V8 engines in the Tundra, you expect reduced fuel economy. It's not that bad though - go with the two-wheel drive, 4.6-liter combination and you'll still get 15 MPG around New Hampton and 19 MPG on the highway. At worst, you'll have to deal with 13 MPG city and 17 MPG highway with the full-size, four-wheel drive Tundra using the powerful 5.7-liter V8. Not a bad trade-off for all that towing power.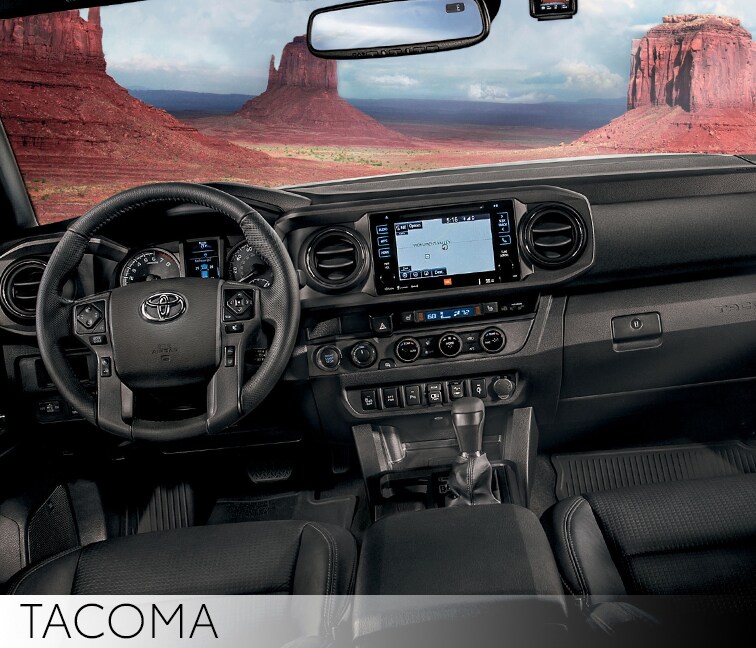 Which truck can haul more cargo, the Tacoma or Tundra?
Not everyone in the New Hampton and Goshen region has plenty of parking at home. While large garages and driveways are aplenty, newer construction leans towards smaller garages, and not everyone has off-street parking. Sometimes you have to fit your truck to the space you have on hand.
The 2019 Toyota Tundra is a thoroughly capable truck. Three different bed sizes are available, depending on the cab size chosen - a 5.5-foot Short Bed, a 6.5-foot Standard Bed, and an 8-foot Long Bed. While these are super capable, they do come with a size penalty - the shortest version of the Tundra you'll get is 229 inches in length. They're also 76 inches or taller, and 80 inches wide. That's not particularly handy for smaller parking garages or attached garages at home in Middletown.
With a 5-foot Standard Bed and a 6-foot Long Bed, the 2019 Toyota Tacoma can haul a fair amount, maybe not quite as much as the Tundra but pretty darn close.  It comes in a much more manageable package though, topping out at 75 inches in width and 72 inches in height. Even with the 6-foot bed, the
Tacoma comes in at 225.5 inches, shorter than even the shortest Tundra. Go with the Standard Bed, and it comes in at 212.3 inches, meaning it is ready to squeeze into the smaller spots in Monroe without the back end hanging into traffic. If you have size limitations for parking and driving, the Tacoma is your better option.
Is the Tundra or the Tacoma a more comfortable vehicle?
Two different-sized cabs are available with each truck. While all four cabs offer tons of front-row space, it's the second row that varies quite a bit.
The 2019 Toyota Tundra is ready to haul you and the whole crew, with the Double Cab and the Crewmax cab. Both offer plenty of space for adults in every seating position - but the Crewmax goes the extra mile. While the Double Cab offers 34.7 inches of leg room, which is good enough for most adults for short runs around Monroe, the 42.3 inches of leg room in the second row of the Crewmax is enough for long trips, whether it's taking the family to Long Island or running a work crew to a job site that's hours away. Both cabs offer 65.5 inches of shoulder room or more.
To make it easier to fit into smaller garages, the 2019 Toyota Tacoma had to trim somewhere. The front seats offer as much head and leg room as you'll get in the Tundra, although they do suffer with five inches less hip room and seven inches less shoulder room. The rear seats of the Tacoma Access Cab are suitable mainly for storage or small children, providing 24.6 inches of leg room and 34.9 inches of head room. Opt for the Double Cab and you'll have enough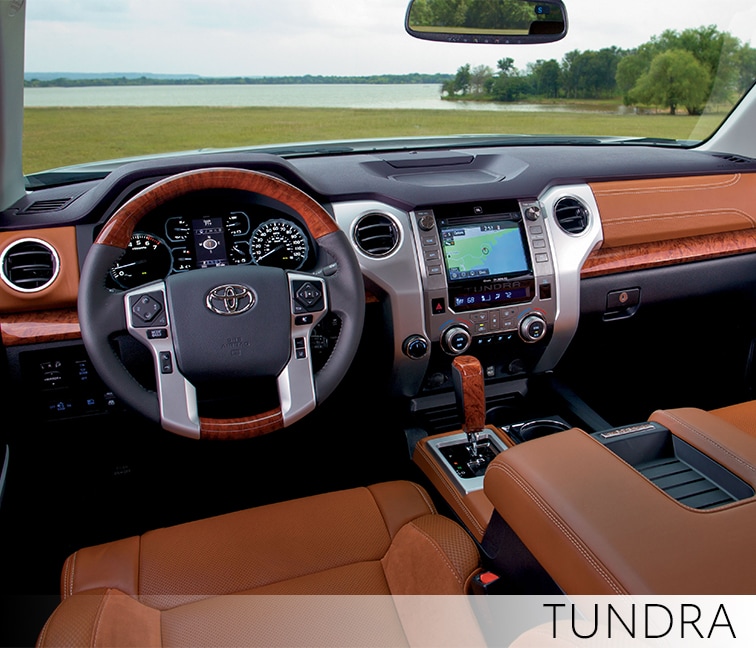 space for full-size adults to be comfortable on short rides, although at 32.6 inches of leg room we wouldn't recommend much more than an hour or so back there, unless you want complaints. But for a small family, or infrequent, short trips around Middletown, it's close to perfect.
As far as creature comforts, both trucks have the same availability of infotainment systems, upscale trim, and conveniences - it's just a matter of packaging everything together the way you want it.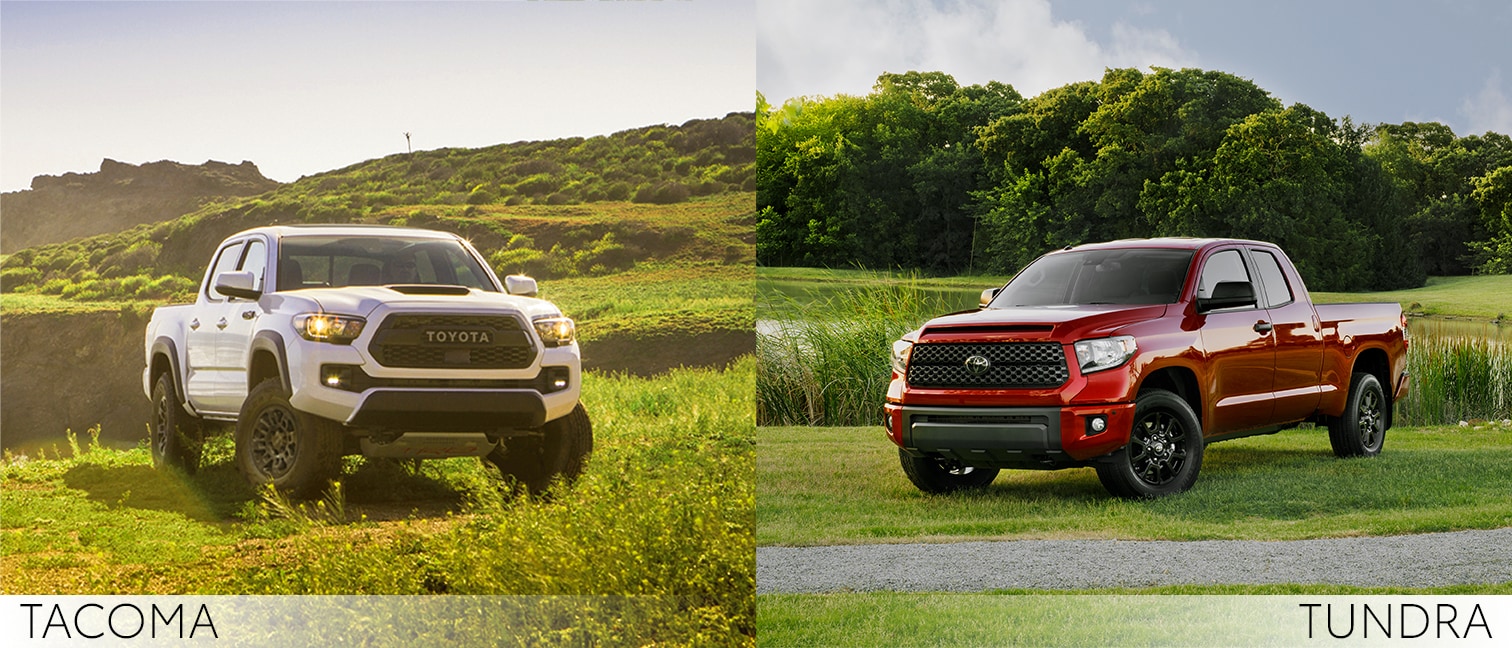 ---
Here at Johnstons Toyota in New Hampton, we've found both the 2019 Toyota Tacoma and the 2019 Toyota Tundra to be solid, reliable vehicles that are built with both budget and quality in mind. It's not a question of whether or not they are the right trucks for the job, it's a matter of figuring out which one is the right truck for you and your lifestyle. With great reliability and resale value, it's no surprise that the drivers of Monroe, Middletown, and Goshen have made the Tacoma and Tundra two of the most common trucks on the road today!